Impro with Patti Stiles and Steen Haakon Hansen
Expand your improvisation knowledge, increase your skills and techniques and challenge yourself with this unique workshop opportunity  -  learning ways how to use the techniques.
An eight day workshop focused on performance creation using Keith Johnstone's improvisation techniques for acting awareness and character development and it's influence and potential in dynamic story creation, taught by two of the finest teachers and experts within the field of improvisation Patti Stiles and Steen Haakon Hansen.
ACCOMMODATION
The workshop takes place in Nykøbing Sj. The price includes your own bedroom (shared bathrooms) and all meals. Click here for more info and see photos of the place here.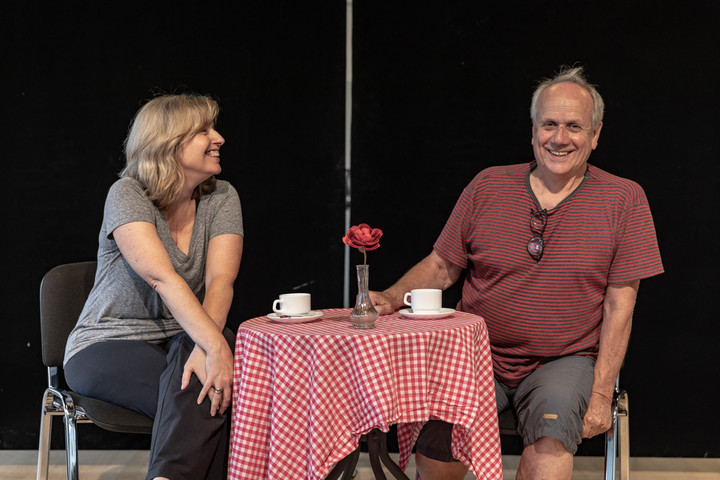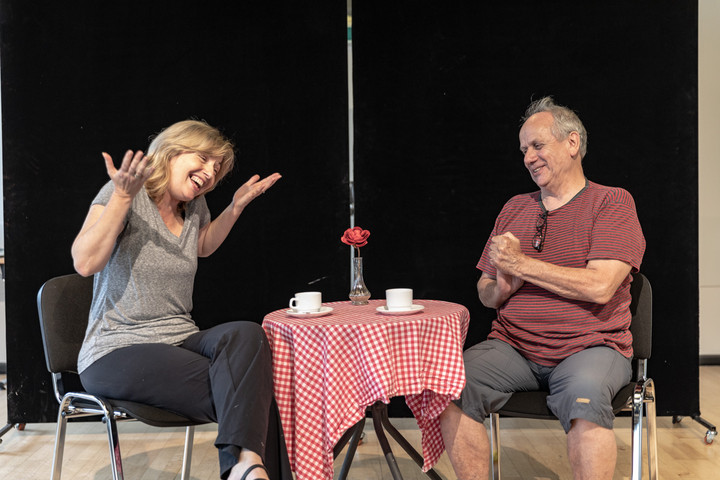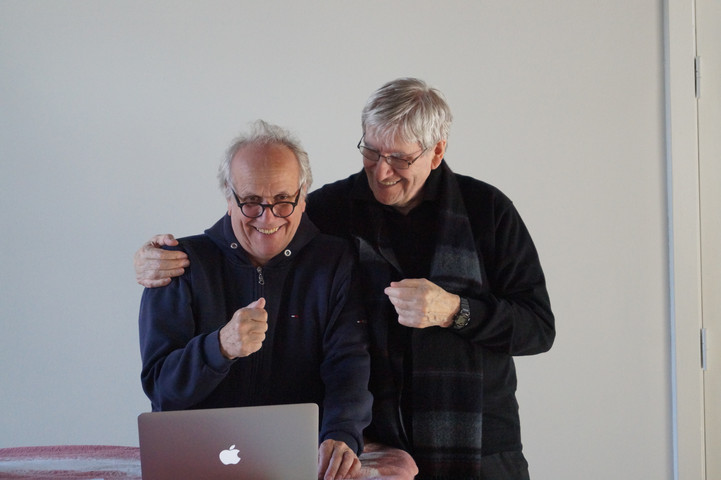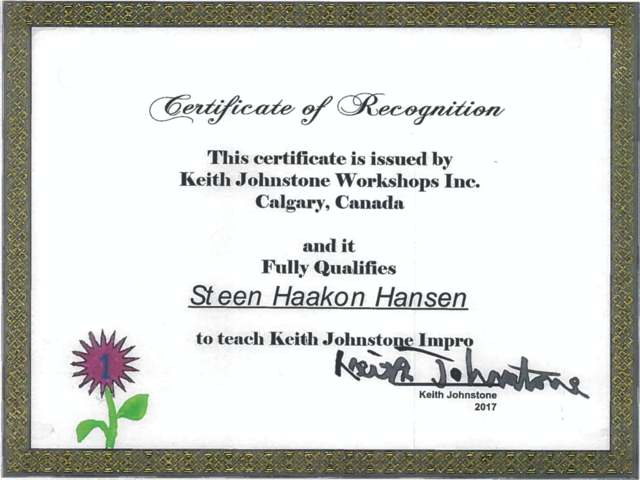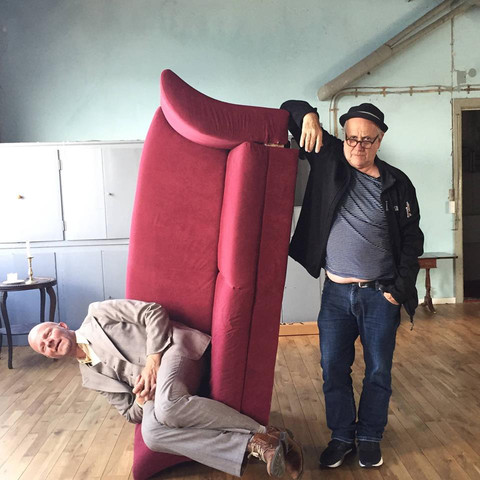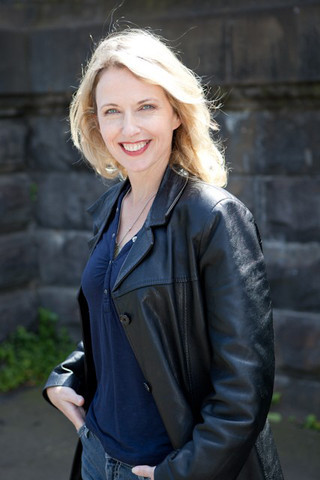 Patti and Steen have over 70 years of combined experience working with Keith Johnstone. 
Patti trained with Keith at the ground breaking Loose Moose Theatre Company in Canada and Steen taught along side Keith at the Danish Theatre School.  Together they bring their understanding of Keith's techniques and philosophies mixed with their own vast and varied performance careers to create this unique and dynamic workshop experience which will extend the individuals personal performing skills and challenge the concepts of what is understood to be modern-day improvisation and it's place on stage. 
The workshop is rooted in Keith Johnstone's games, exercises and techniques bringing them and the understanding of this work to life.
You will be introduced to training in how to let the techniques emerge and be used when needed.
The purpose of the training is to give your unconsciousness better tools and skills to work with. And to find and create new tools and skills when needed.
You will experience that very often a response without words are much stronger than words, and how to select actions and adjectives, when it is called for. Learn how to see and use the information value of images.
You will realize that you have to acquire tools that are so simple and few that you can find them at all times and use them with an instant warning. And that you have to learn how to use them, in creating improvised performance.
The workshop will be diveded into approx. 3 days of intensive training with each Steen and Patti, and approx. 2 days where Steen and Patti will collaborate.
"This was an amazing course and a nice place to stay. We got good people taking care of us. Learned a lot from the course. Steen and Patti was such warmhearted people who saw us and gave us a lot of safety and learning. I can't remember last time I've learned this much for just one week. Thank you very much!"
"I thoroughly enjoyed the course, the venue, the people, the food. I will keep coming back for more."
- Quotes from former participants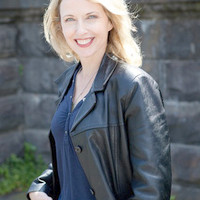 Patti is an actor, improviser, director, instructor and playwright who has been working professionally in theatres since 1983.  She served her theatre apprenticeship at the world renowned Loose Moose Theatre and was trained by Keith Johnstone. 
Hide description
Show description
It is her knowledge, technique and application of her improvisational skills, which makes Patti a unique and dynamic instructor. Her understanding and interpretation of Johnstone's work and philosophy, combined with her wealth of experience on the world improv stage, has made her a "must have" teacher for performers and companies wishing to create spontaneous theatre with fine skill, strong narrative and elegant style.
As an improvisation performer and teacher, Patti Stiles has worked in Canada, the USA, England, Italy, Holland, Switzerland, Norway, Germany, Belgium, Sweden, France, Portugal, Greece, New Zealand, Finland, Hong Kong, Thailand, Singapore and Australia for numerous improvisation companies, theatre schools and in the corporate arena.
Patti has also been interviewed for two improvisation books, Something Like A Drug and The Improv Handbook, which includes a dedication to her.  She is the Artistic Director of Die Nasty AU (Melbourne Australia), co- Director of Secret Impro Theatre (Melbourne Australia) and Impro Melbourne (Melbourne Australia) and has had the honour of being Artistic Director of  Dream Kitchen Theatre (Toronto, ON. CA) and Rapid Fire Theatre (Edmonton, AB. CA).  Patti is core company member (in absentia) of Die Nasty – the live improvised soap opera (Edmonton, CA), and was a spark of inspiration for the birth of London's Spontaneity Shop. 
To her list of credits she also holds the unofficial record for being the first female to improvise for 53 hours in a row in the famous Die Nasty soap a thon and to her embarrassed delight has a workshop room named after her by Impro ACT in (Canberra Australia).  Currently she serves on the International Theatresports™ Institutes Managing Board as Artistic Director and and representative for the Oceania region.
The Canadian press has given her the titles "Impro Doyen" and "Queen of Improvisation".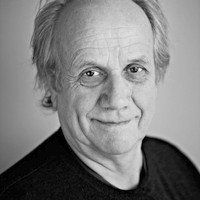 Steen Haakon Hansen graduated as an actor in 1977 from Statens Teater Skole and has since been directing, acting and teaching in Denmark and abroad. Steen's focus is on Improvisation and Expression Corporelle. For the last decade he has been working closely with and assisting Keith Johnstone in Odsherred and has now - as one of the few in the world - obtained a certificate allowing him to teach Keith Johnstone Method.
Hide description
Show description
Steen also teaches at The Danish National School of Performing Arts Further education department, and has over the years developed exercises and assignments focusing on contemporary art and culture dissemination exposure and opens for Improvisation and Expression corporelle as relevant and contemporary communication understandings.
Steens work is besides Keith Johnstone based on the ideas of Augusto Boal, Yevgeny Vakhtangov, Michael Chekov, Dario Fo og Jacques Lecoq.
Today Steen Haakon is known as one of the finest teachers and experts within the field of Improvisation.
Time
From 17. August 14.00 p.m to 24. August 13.00 p.m
Address
Den Danske Scenekunstskole Efter- og videreuddannelse
Extra information
PLEASE NOTE! The price includes your own bedroom (shared bathrooms) and all meals. Special cancellation rules apply to this course.